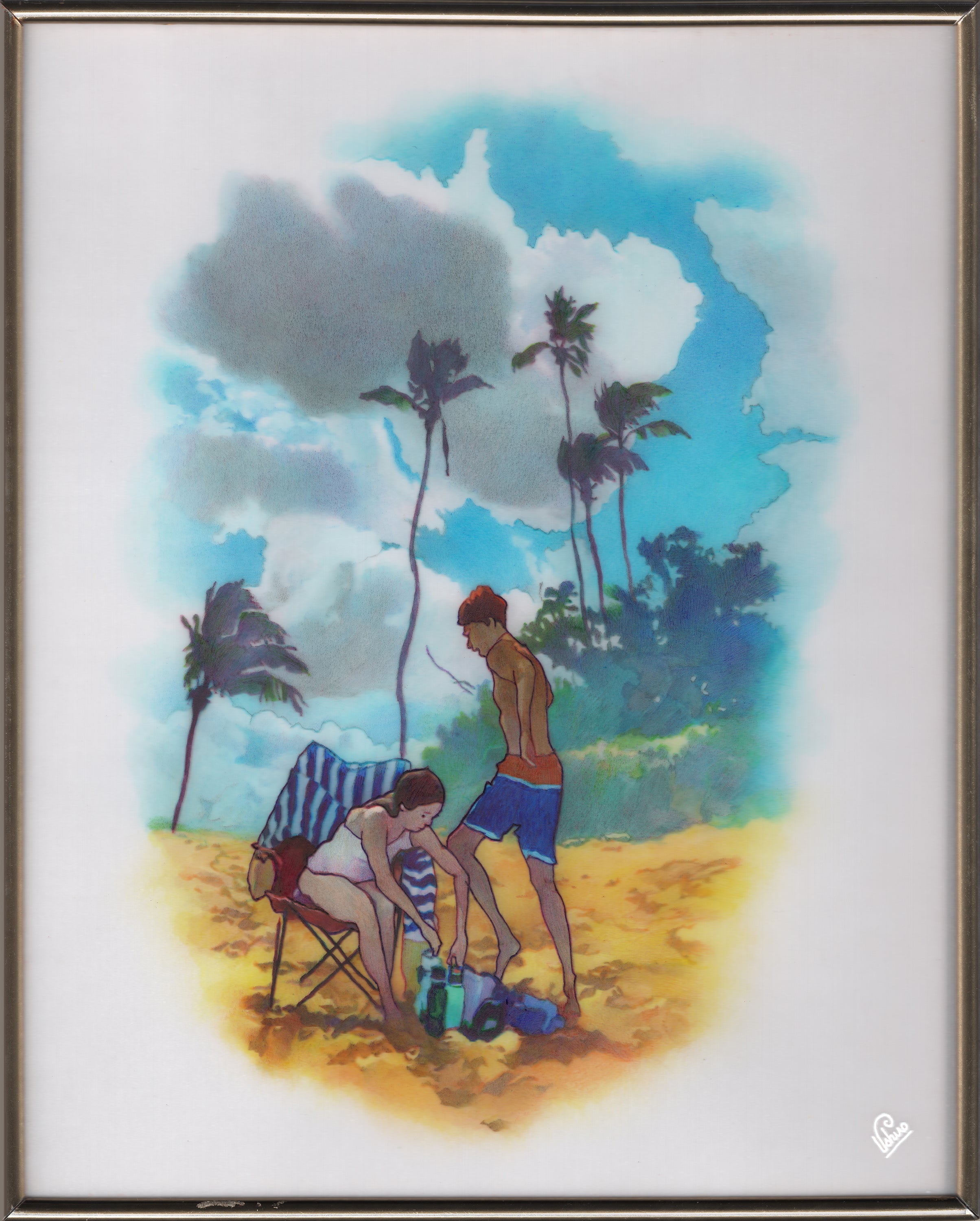 "When Destiny Calls (Or When Your Mom Tells You to Go Home)"
---
Edwin Ushiro

"When Destiny Calls (Or When Your Mom Tells You to Go Home)"

Ink and color pencil on Neenah UV Ultra II Translucent Paper

10.25" x 8.25"

Framed.
All proceeds from the purchase of this artwork will be donated to Maui Wildfire Recovery Funds after the catastrophic wildfires that took place there.
Free Shipping.
Edwin Ushiro, an esteemed artist hailing from Hawaii, currently resides in Southern California, where he perpetuates the spirit of his birthplace through his evocative artistic creations. His work is an extraordinary synthesis of his Hawaiian upbringing, youthful recollections, and nostalgia, all rendered through a distinctive technique that sets him apart in the contemporary art scene.
Ushiro's artistic oeuvre resonates profoundly with his upbringing in Wailuku, a tranquil town situated on the Hawaiian island of Maui. His art, imbued with potent remembrances of a sun-drenched youth when life felt fresh and enchanted, is not only a vibrant palette of childhood experiences but also a medium through which he delves into the eerie folklore that haunted the secluded country roads of his hometown and the depths of a child's boundless imagination.
Guided by the narrative tradition of the "talk story," inherent to the Hawaiian islands, Ushiro artfully intertwines tales of his Japanese heritage, the uncanny obake stories, into his work. His unique mixed media approach, involving meticulous work in ink and acrylic over Lucite sheets imprinted with an assemblage of his traditional drawings and paintings, births reflections on the past that are both luminous and nostalgic. His creations possess the warm glow of treasured memories, further enhanced by the patina of time.
Ushiro is an alumnus of the Art Center College of Design, where he graduated with Honors in Illustration. Post-graduation, he embarked on a career in the entertainment industry as a storyboard artist, concept designer, and visual consultant. His work, which captures the essence of his unique personal and cultural history, has graced numerous venues globally, from Villa Bottini in Italy and the Museum of Kyoto to the Portsmouth Museum of Art and the Japanese American National Museum.
A monograph dedicated to his artwork, "Gathering Whispers," published by Zero+ Publishing, offers an in-depth exploration of his artistic journey. Today, Ushiro oscillates between Los Angeles and Maui, his creative prowess spanning the geographical distance as he continues to cultivate his art and etch a unique imprint on the landscape of contemporary art.