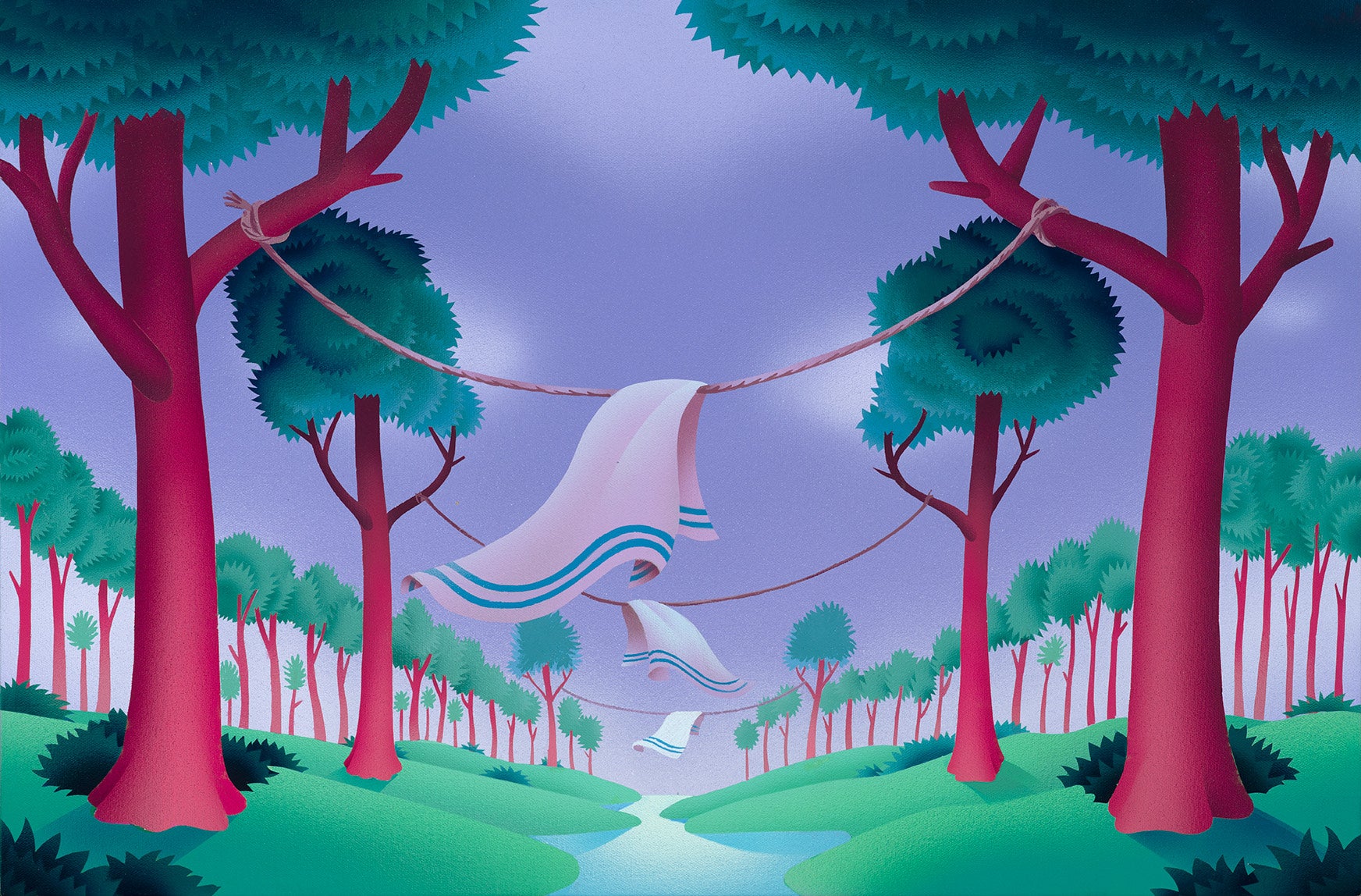 "Laundry Day"
---
Michael Polakowski

"Laundry Day"

Acrylic on Canvas
24" x 16"

Free shipping.
Hailing from the heartland of the United States, Michael Polakowski was born in 1994 and is an artist whose work captures the overlooked narrative of Middle America through a surrealistic lens. After receiving his Bachelor of Fine Arts from the esteemed College for Creative Studies, Polakowski sought to further cultivate his artistic prowess within the vibrant creative scene of Detroit, Michigan. He accomplished this by establishing his studio practice under the auspices of the Fisher Creative Spaces Studio Residency, a program fostering artistic growth and innovation.
In addition to his studio work, Polakowski has also distinguished himself as a skilled muralist. His most significant contribution in this field to date is a large-scale mural commissioned by the renowned Detroit Institute of Arts. Whether working in the context of public spaces or the confines of his studio, Polakowski's artistic language remains consistent. It is characterized by an abundance of intricate detail, the vibrant application of color, and the incorporation of narrative elements drawn directly from his personal experiences and observations.
Polakowski adopts an investigative approach to his artistry, meticulously observing and recording his surroundings. This process enables him to explore the duality inherent within our perception of the everyday, encapsulated by his sentiment that "not everything is quite right here." His ability to extract the extraordinary from beneath the veneer of the ordinary results in strikingly surrealistic juxtapositions that populate his work.
In creating art that is both personal and universal, Polakowski provides a fresh perspective on Middle America. This region, often neglected in the broader narrative of American Art, is imbued with a new depth and complexity through his work. Thus, Polakowski's art serves not only as a testament to his personal vision but also as a unique contribution to the rich tapestry of American artistic expression.