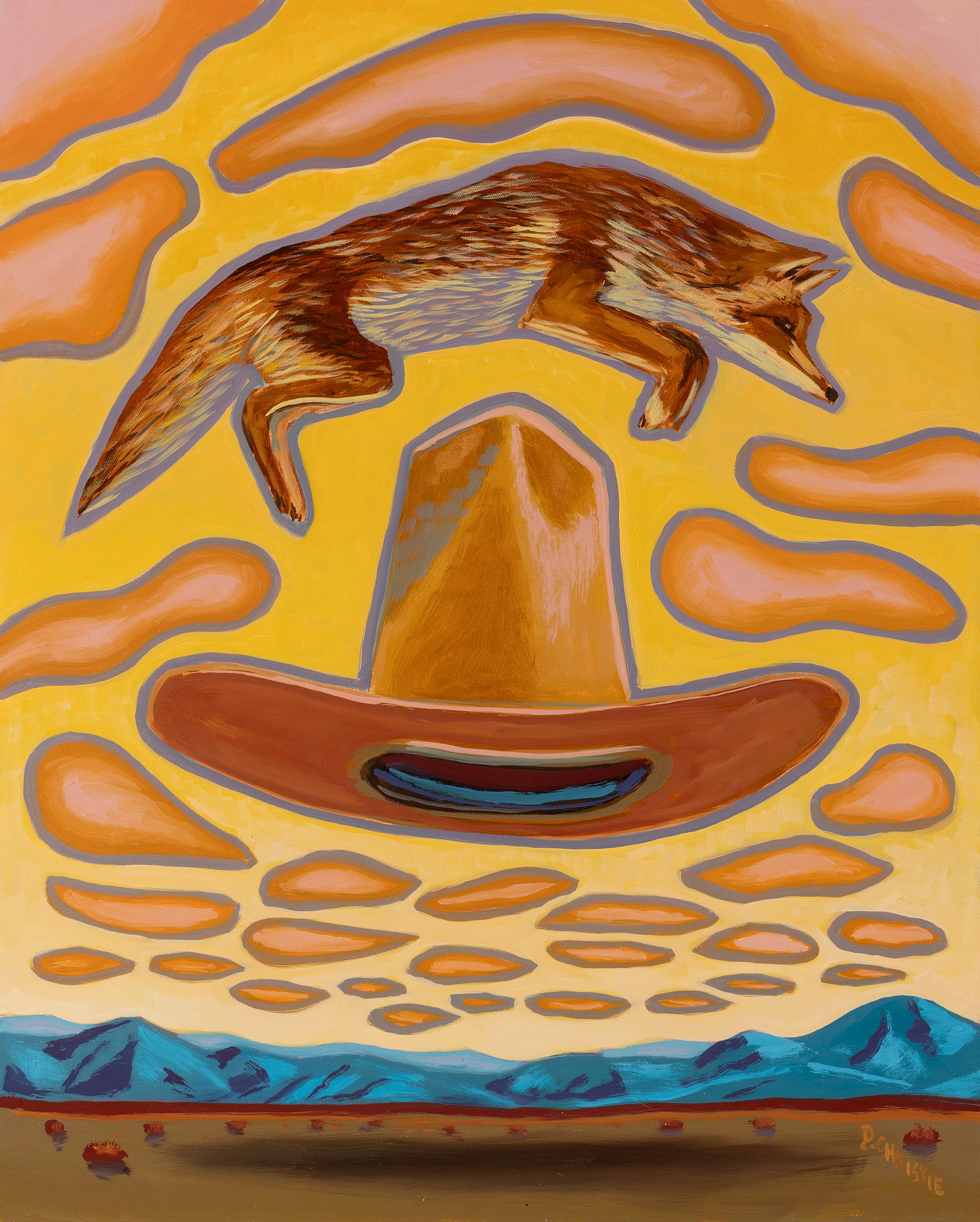 "Flying Coyote"
Drew Christie
Flying Coyote
Oil on Canvas
24" x 30"

Drew Christie's artistic roots sink deeply into his home state of Washington. His formative years at Skyline High School in Sammamish were a period of artistic awakening, where his early interest in visual arts was fostered by a supportive teaching staff, eager to cultivate his emerging talents. Driven by a recognition of his own artistic potential, Christie sought advanced education in his craft, enrolling in courses at the Seattle Film Institute while still in high school. It was here that he began to refine his unique style and approach to art.
Currently based on Whidbey Island, Christie has established himself as a respected artist and animator, earning accolades such as a nomination for the 2012 Genius Award in film. His artistic evolution took a significant leap in 2013 when he began making regular contributions to the New York Times' Op-Docs and producing shorts for Vanity Fair TV. Among these, "How to Behave at a Swingers Party" for Vanity Fair emerged as a notable work, showcasing Christie's ability to weave humor with the surreal in a way that appeals to a broad audience while maintaining the depth and striking visual style characteristic of his work. Christie's artistry, both challenging and evocative, stands as a vibrant testament to his ability to merge captivating storytelling with breathtaking paintings.
In recent years, Christie's artistic focus has shifted, drawing profound inspiration from the Southwestern United States. This geographical muse has infused his work with new themes and aesthetics, deeply influenced by the region's unique landscapes, rich cultural heritage, and vibrant color palettes. His recent creations delve into exploring the intricate relationship between the environment and its inhabitants, capturing the essence of the Southwest with a renewed sense of narrative depth and visual exploration. This shift not only marks a new chapter in Christie's artistic journey but also enriches his portfolio with a distinctive blend of regional elements, further establishing his versatility and depth as an artist.

Payment plans are available via Shop Pay (Up to 48 months) or through Supersonic Art directly.
---