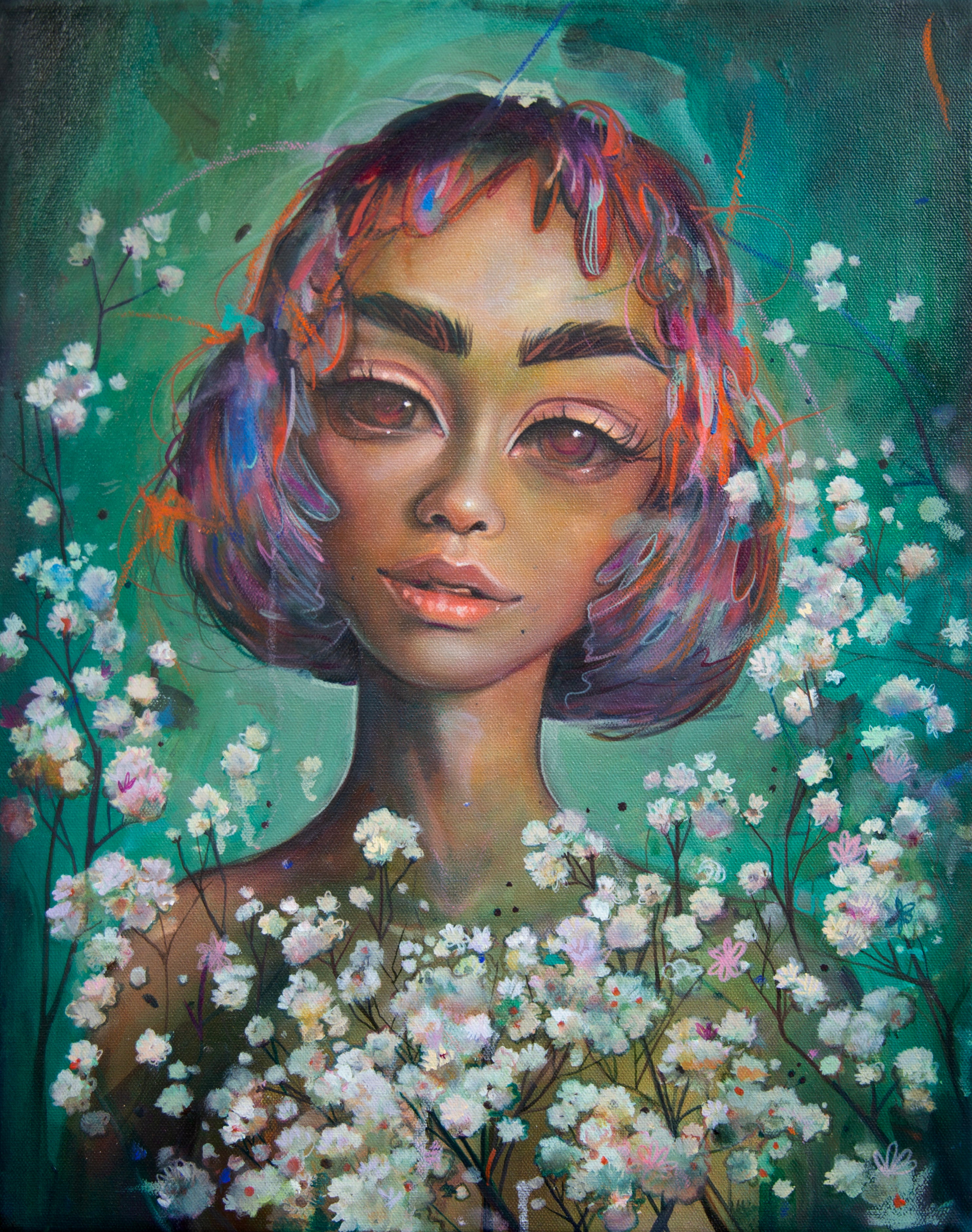 "Baby's Breath"
---
Tatiana Suarez
"Baby's Breath"
Oil on Canvas
16" x 20"

Free Shipping.
Tatiana Suarez, an artist and muralist from Miami, is a master of contemporary portraits full of life and color. With a multicultural heritage, Tati draws from a wealth of influences that merge the past and present to create a mesmerizing and ethereal universe.
Central to Tati's art is her use of a tropical palette and layered symbolism that highlight the beauty of nature. She is fascinated with exotic rainforests, swampy ecosystems, and the ocean depths, and her work reflects her deep appreciation for the natural world. Her diverse use of flora, such as water lilies and lotus flowers, is highly symbolic, representing birth, regrowth, and the ability to thrive in difficult conditions.
Since graduating with a BFA in illustration and design from the University of Miami in 2005, Tati has established herself as a prominent artist in the realm of pop surrealism and muralism. Her work has been exhibited in galleries across the United States, including San Francisco's Spoke Art and Los Angeles' Corey Helford Gallery. She has also collaborated with prestigious brands such as L'Oreal, Reebok, and Netflix.
Tati's murals can be found in many locations worldwide, including Okinawa, Hawaii, and Mexico and most notably her inclusion in Miami's prestigious Wynwood Walls. Her artistic prowess has garnered widespread acclaim, with her use of vibrant colors and ethereal imagery drawing viewers into a world of magic and wonder. Tati Suarez is a visionary artist whose work is sure to captivate audiences for generations to come.