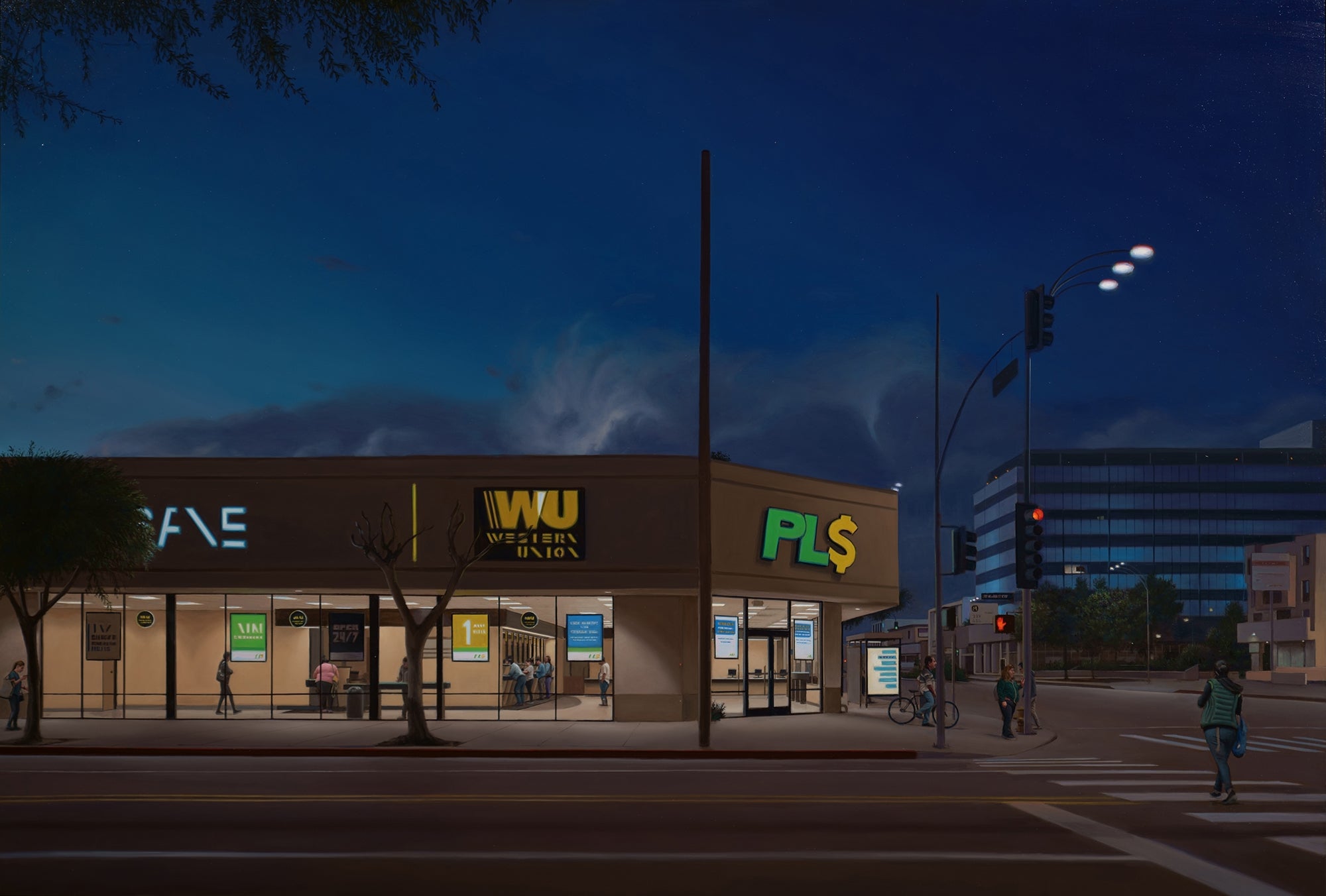 "6801 Van Nuys Boulevard"
---
Marc Trujillo

"6801 Van Nuys Boulevard"

Oil on Dibond
32" x 47"
Translating his exploration of the collective human experience into art, Marc Trujillo forges a unique artistic perspective based on his astute observations of his surroundings. His works reflect the everyday scenes from North American urban and suburban life: the sprawling chain stores, towering warehouses, commonplace gas stations, lively shopping malls, and ever-present chain restaurants. Trujillo, however, refrains from using these depictions as a means to convey irony, fantasy, or subjective human narratives. Instead, he remains a detached observer, presenting his scenes without endorsing or denigrating them. His work, thus, is an exercise in the unadorned documentation of reality.
This nuanced portrayal urges the observer to engage in a closer scrutiny of their surrounding world, revealing uncomfortable truths and stimulating introspection. In its essence, however, Trujillo's work is a celebration of the art of painting itself, and it generously leaves the interpretation to the viewer's discernment.
Hailing from Albuquerque, born in 1966, Trujillo pursued his artistic journey with a B.F.A. from the University of Texas at Austin and an M.F.A. from the prestigious Yale University. Since completing his formal education, Trujillo's work has been exhibited extensively across the American continent, featuring in solo exhibitions from San Francisco and Los Angeles to New York.
Among his accolades are the esteemed Louis Comfort Tiffany Foundation Award in 2001 and the John Simon Guggenheim Memorial Fellowship in 2008, attesting to his recognized contributions to contemporary art.
Trujillo's work gained prominent attention in the 2016 exhibition "The Gildless Age" at the Torrance Art Museum in Los Angeles. The following year, two separate museums honored him with solo exhibitions: "Marc Trujillo: Urban Ubiquity" at the Bakersfield Museum of Art in California and "Marc Trujillo: American Purgatory" at the Halsey Institute of Contemporary Art in Charleston, South Carolina. These exhibitions both underscored and amplified his artistic prominence in the field of contemporary painting.