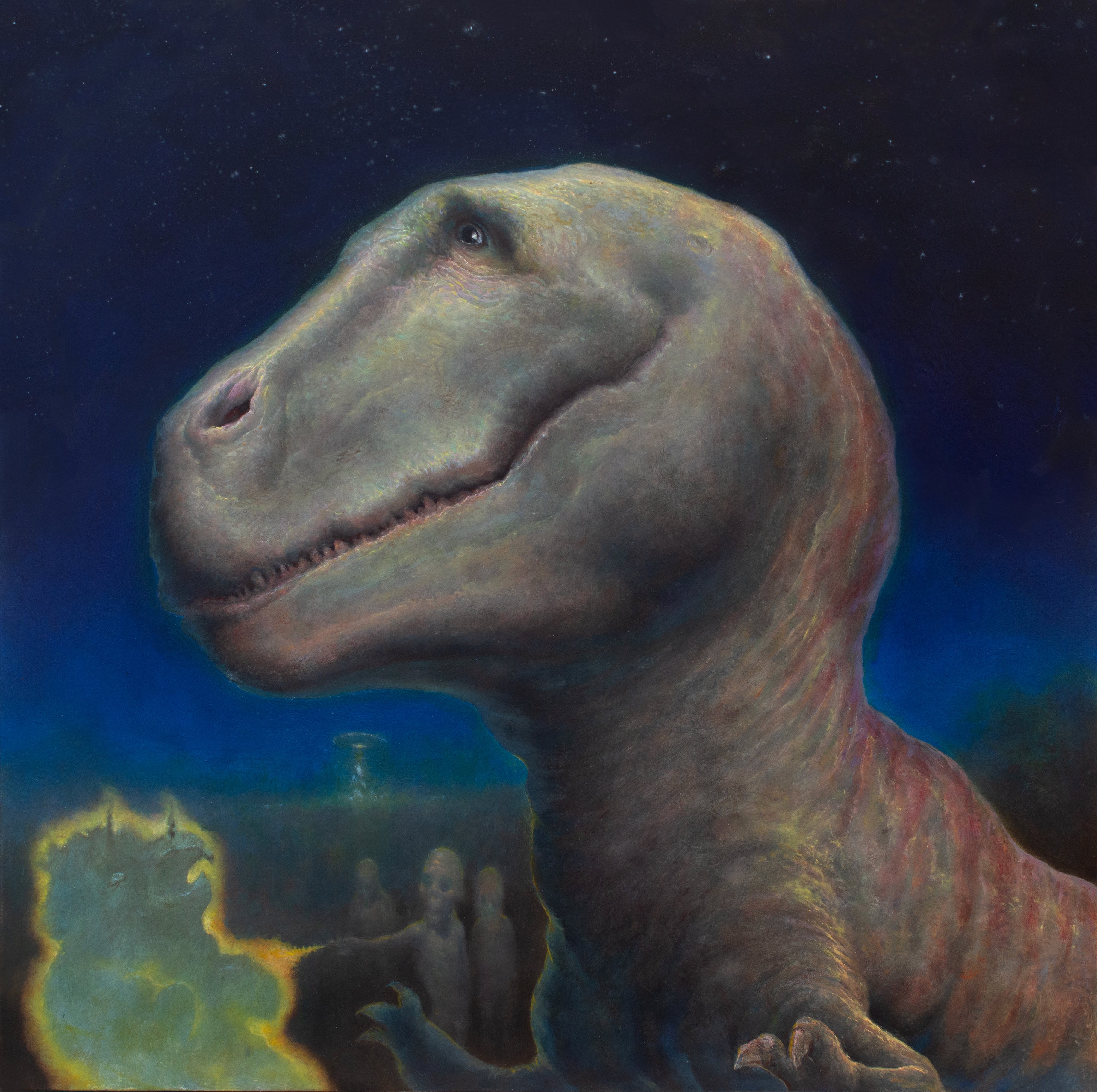 "Removal"
Chris Leib
Removal
Oil on Panel
12" x 12"

Free Shipping worldwide.
Chris Leib is an American fine artist and graduate of anthropology, renowned for his iconography of bonobo chimps and astronauts and cosmonauts, often juxtaposed, with exquisite technique and scrupulous attention to detail. Transcending whimsy, his paintings are imbued with meaning and intellectual contemplation. Leib's work explores themes of heroism, human endeavor and the sensitivity of human hopes and ambitions for possible realities of science-fact. His work challenges us to contemplate a collision of science fiction, reality and religion, this three-car pileup viewed from the vantage point of our evolutionary ancestors, who have quietly continued to evolve themselves.

Leib was born in the San Francisco Bay Area and splits his time between Berlin and California. His father, an artist and teacher, encouraged him to draw from an early age. His love of science fiction and Star Trek was incubated in the 1970s in a dark basement while he watched black and white TV; his interest in primates began at the University of California Berkeley, where he studied anthropology. After college, while working as a furniture mover, he answered an ad seeking people who could sketch. Four months later, he was offered a job as an illustrator. He later studied at the Academy of Art in San Francisco, after which he apprenticed with the Italian portrait painter Roberto Lupetti. During this time he also began working as an illustrator for McGraw-Hill Publishing and exhibiting paintings.
Leib has exhibited his artwork across the United States as well as in Germany, France, Denmark and Australia. His art has been positively reviewed in Hi-Fructose magazine, Huffington Post, Kunst Magazin (Berlin), Supersonic Electronic, Village Voice, Beautiful Bizarre, and HEY! magazine. Leib has twice been an Artist in Residence at the De Young Museum in San Francisco and has received competitive grants from the George Sugarman Foundation and the San Francisco Arts Commission. His work can be found in important public and private collections in the United States and Europe.
Payment plans are available via Shop Pay (Up to 48 months) or through Supersonic Art directly.
---